This summer sale will no longer be the same as before; from May 18th, 2022, a new EU consumer protection directive – Directive (EU) 2019/2161 ("Omnibus Directive") came into effect. This directive aims to improve legal consumer protection, including how price promotions should be advertised. Let us dissect what it means for retailers and how we can help you.
New EU consumer protection directive - What is it?
The EU has addressed the rules of price reduction, and the Member States are free to set them at a national level. An essential part of this directive is that the prior price or reference price must be indicated throughout the promotion period when publishing a price discount. Also, this prior price needs to be the lowest price within 30 days before the discount time. With this directive, the EU aims to prevent misleading information about the price reduction to protect consumers, in case the price increases are made ahead of time to communicate a significant price drop. 
Example:
| | Strikethrough price | Discounted price | Discount percentage |
| --- | --- | --- | --- |
| | | | |
| | | | |
*The lowest price within the last 30 days
Omnibus Directive - Key changes
Fundamentally, this EU directive is centered around how a business should communicate or announce its product discounts to consumers. To better understand the key changes, continue reading as we will dive into some specific cases.
The long-drawn-out Covid restriction has made many changes to retail, and being omnipresent is how retailers have been doing to adapt to the market. If you're an omnichannel retailer, your products are on sale on various channels and are at different price levels. In this case, the reference prices will be the lowest prices of those products on their respective channels within the last 30 days before the promotion.
Price discount longer or shorter than 30 days
The 30-day period is the minimum timeframe set by the EU; Member States can opt for a more extended period if it complies with EU law. An exemption is made for perishable products or goods that have been on the market for less than 30 days. If the discount is set for longer than 30 days, then the reference price is still the lowest 30 days before the start of the reduction period, and it stays consistent until the end.
Progressive reduction in the product price
Often, retailers adopt new price reductions to boost buying decisions. When retailers want to lower the already discounted products, the non-reduced price before the first reduction is the prior price. 
Example:
| | Strikethrough price | Discounted price | Discount percentage | Second strikethrough price | Second discounted price | Second Discount percentage |
| --- | --- | --- | --- | --- | --- | --- |
| | | | | | | |
| | | | | | | |
*The lowest price within the last 30 days
Personalization of prices based on automated decision-making
According to this new EU directive, information about automated price personalization for a specific customer or customer segment needs to be disclosed. In other words, retailers must communicate when the presented price is personalized to this customer/segment. Fundamentally, the aim is for the consumers to make better purchasing decisions.
Note: Dynamic pricing practice is not considered as price personalization due to its high flexibility and constant update in response to the market change. To be more precise, dynamic pricing updates prices frequently and all customers see the same displayed prices.

How to implement discounts now, in compliance with the new directive
Assuredly, discounts are retail's most commonly used pricing strategies to elevate profits and revenue. To explain more, optimized discount can help reduce inventory while optimizing return on investment. The success recipe lies in how one would implement that. As inflation and economic downturn continue to make the headlines worldwide, global to local businesses are walking a tightrope between lowering prices and cutting costs. 
The best price can become a selling point for potential customers at the decisive moment. Given the current global economic slowdown, discount is more popular than ever and is considered an essential instrument for increasing sales. With the new directive coming into effect, this process seems even more challenging. Predictive pricing has you covered when it comes to setting prices that incorporate everything from discount, price elasticity inventory, seasonality, competition, and more.
Predictive pricing is the next generation of price optimization for retailers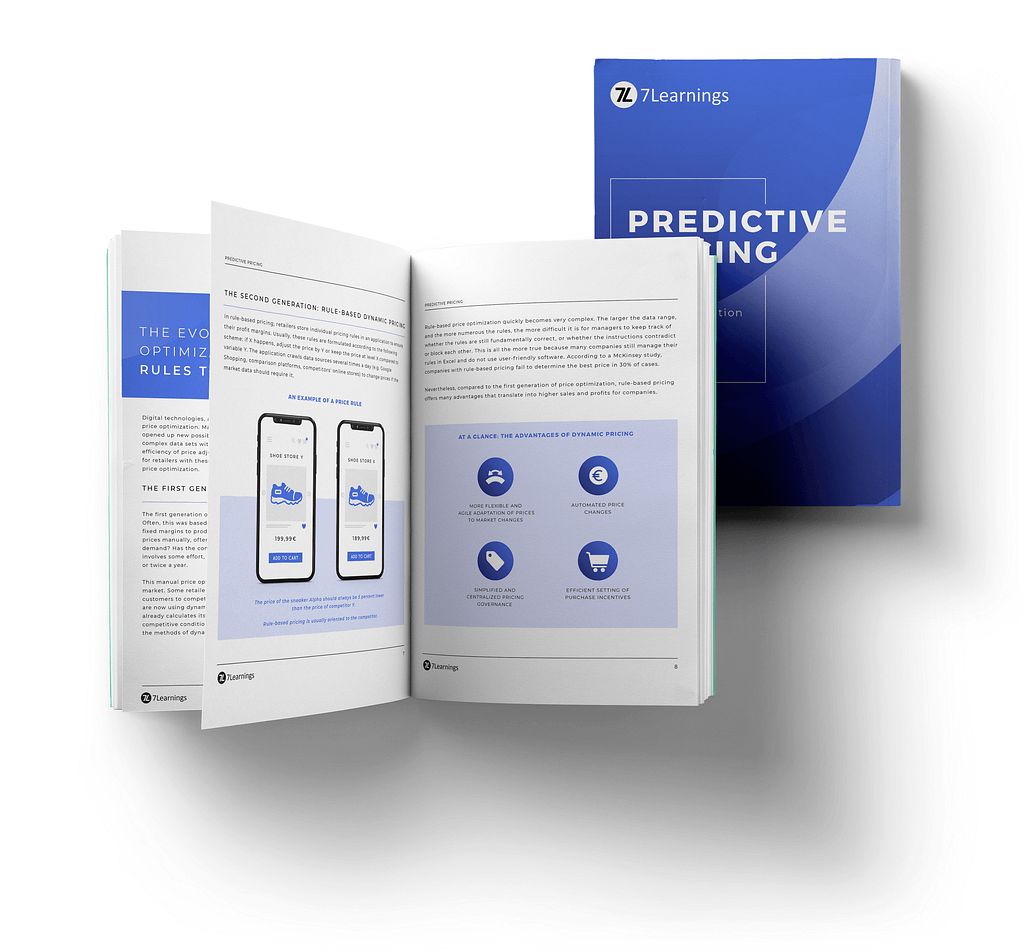 How to upgrade to the latest retail price optimization technology 
It is an advanced pricing software that uses price elasticity and forecasting algorithms to predict the effect of price changes on KPIs defined by the business. 7Learnings is one of few to successfully test and implement this practice in various industries and businesses. Backed up with the next-gen machine-learning algorithms, our pricing software can put forward pricing solutions to help your business efficiently achieve your defined goals and requirements.
The results of the pricing forecast allow the algorithm to raise and lower prices, optimizing profits for a given item throughout its lifecycle. Retailers, on the other hand, determine how often the prices should be updated, with possibilities ranging from weekly to multiple times a day. In the same vein, it is entirely of the retailers to choose how these suggested optimized prices are communicated to your end customers.
Predictive pricing technology allows retailers to learn from discount campaigns constantly and continually adapt and improve. The system can also generate customized discounts for individual regions and articles. Omnichannel retailers can also identify the ideal prices for their respective touchpoints from their online shops, shopping apps, or retail stores. This way, retailers can ensure that their pricing strategy exploits their full margin potential.
If you wish to know more about the EU consumer protection directive topic and how our solution can help your business, please schedule a discovery call with our experts.