The dynamics of pricing in e-commerce
How do I convince my customers to buy by setting the right price? This question is on the minds of online retailers worldwide. They face the challenge of reacting quickly and flexibly to changes in the market when setting prices. At the same time, they need to keep an eye on demand and the competitive situation as well as costs. How do you succeed in the midst of these dynamics with the right offer at the right time?
Repricing: How to calculate competitive prices
The best price can become a selling point for potential customers at the decisive moment. This is why repricing, the strategic optimization of product prices, is considered an important instrument for increasing sales. 
When calculating prices, 1 in 5 people already resort to automation methods (PwC, Sales Radar: Dynamic Pricing, 2019). Online retailers use the possibilities of automation in repricing to reduce the manual effort of market observation. They hope this will enable them to react flexibly to price adjustments by their competitors and to adjust their offer at the decisive moment. 
The principle of repricing: First, the prices of all relevant competitors are collected and the company's own competitive position is observed. By predefined rules, prices are adjusted based on changes in competitor prices. The rules reflect the desired margins as well as the price position vis-à-vis the competition. On this basis, prices are optimized in the current business. At first glance, this is a promising approach for online retailers. But does it do justice to the complexity of the volatile market environment? 
A pair of wireless headphones is being offered by 4 different sellers. All sellers are trying to offer the best possible price to attract customers. To achieve this, Retailer C decides to reduce his price from €168.99 to €167.99, making his product the cheapest.
At the same time, Retailer D is using a repricing tool and has set a price rule to undercut the prices of his competition by €1. Therefore, he automatically reacts to Retailer C's price change and offers his product for €166.99.
While Retailer D is offering the lowest price to their customers, does that mean they're the most profitable?
Popular use cases for repricing in e-commerce
In practice, repricing is used in a variety of scenarios:
1. Price Leadership vs. Premium Strategy
Repricing allows retailers to implement a price leadership strategy. This involves trying to offer the lowest price. Due to the price rules, the competitive price is always undercut. At the same time, the price automatically increases when the price level on the market increases. 
Example: When selling sneakers, online retailers can increase their sales volume by offering low prices, while at the same time taking into account their own costs as well as those of their competitors. The disadvantage: a constantly low price also leads to lower margins. 
In other segments, upscale prices can in turn convey higher value. If, for example, a pair of sneakers in the luxury segment is offered at a comparatively high price through targeted repricing, higher margins are also possible. This comes with a certain risk: sales volume can fall to such an extent that it has a negative impact on the profit.
2. Focus on specific brands
Repricing also allows online retailers to specialize in certain brands in the market. A supplier of sneakers has the opportunity to optimize his prices so that he offers the best conditions for a certain brand. However, by positioning himself in this way, he is giving away sales potential for other brands or even for his own brand.  
In this approach, prices are calculated primarily on the basis of costs. In this approach, retailers set a minimum margin to be achieved. For example, a retailer has a total cost of 40 euros per sneaker sold and delivered. He wants to achieve at least a margin of 40%. So the price is set at 56 euros. This strategy can help to secure margins. 
However, cost-plus pricing carries the risk of setting prices that are too low or too high compared to the competition. This strategy also does not take into account the interaction between products in the range due to cross-price elasticities.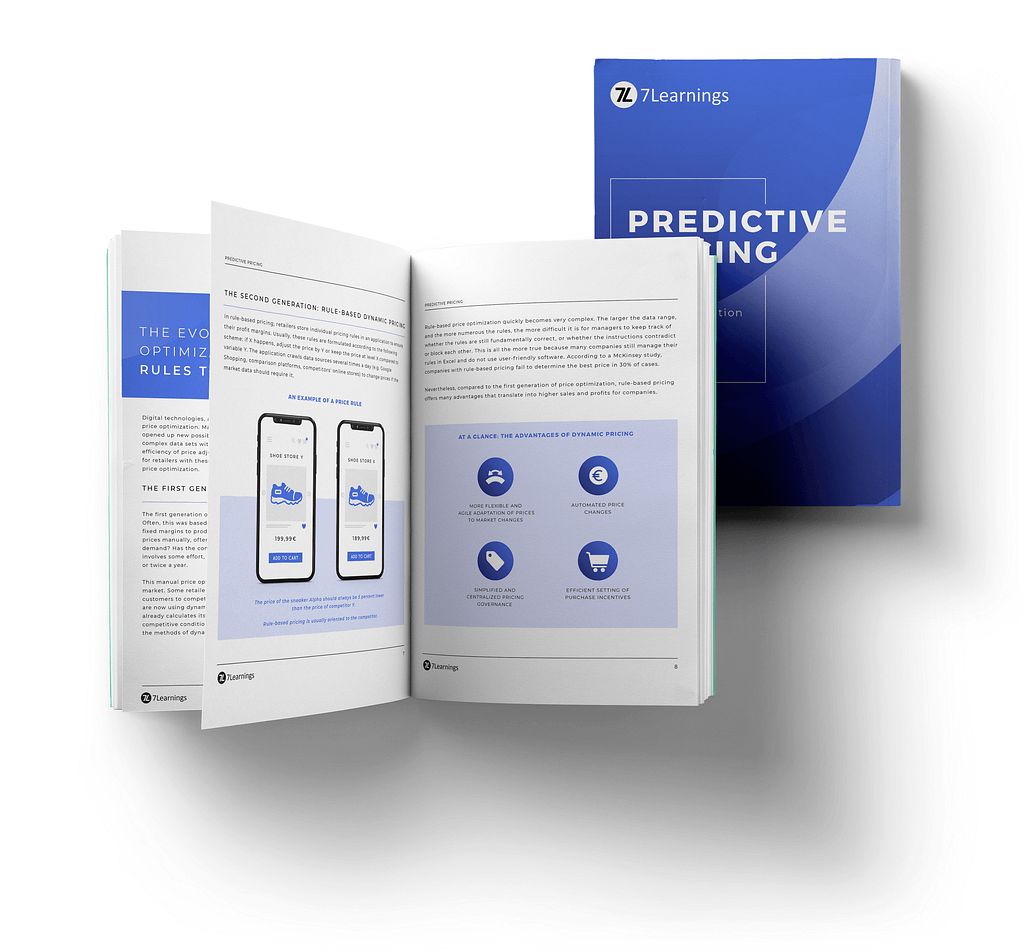 How to upgrade to the latest retail price optimization technology 
Rule-based systems or machine learning: which method of pricing provides better results?
Online retailers rely on repricing to optimize their prices with the market environment in mind. But the examples listed above show: The desired successes can fail to materialize if the reaction of customers has been misjudged. Repricing often takes only a few pricing factors into account, but fails to systematically measure price willingness. Nor does it take into account the effects of other factors, such as the time of year, the weather, or the company's own marketing activities. 
Another difficulty of conventional repricing technologies is that the more products the assortment has and the more factors influence pricing, the more complex the rule system used becomes. A high level of manual effort is required to monitor the pricing rules and keep them up to date.
AI-based technologies, on the other hand, can process much larger volumes of data. Machine-learning algorithms are used to measure price elasticities: This makes it possible to forecast how price adjustments will affect customers' willingness to buy as well as sales and profits. This gives companies the ability to automatically steer their prices in the direction of their KPIs (business objectives). Pricing is dynamic and automatically reflects changes in customer behavior. This eliminates the need for complex administration of pricing rules. This also allows discounts to be used in a more differentiated way.
The advantages of machine learning-based dynamic pricing at a glance: 
Up to 10% higher profits and revenues compared to rule-based systems.

Less manual effort, as there is no need to create and manage large rule systems

Holistic optimization that takes into account all important influencing factors

(e.g. stock range, seasonality)

Intuitive control based on the company's set KPIs

Forecasting function for sales, revenue and profit

Continuous improvement of pricing through self-learning algorithms
Machine-learning-based pricing vs. repricing: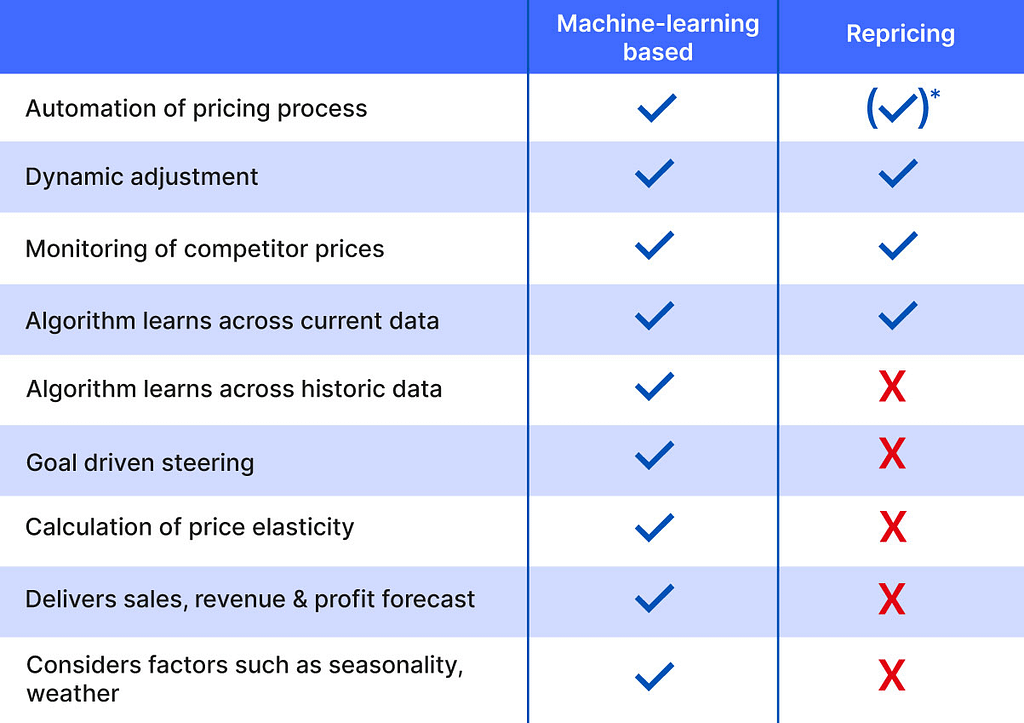 *administration & monitoring of price rules required