According to a study by Coresight, retailers in the non-food sector squandered roughly 300 billion dollars in turnover in 2019 alone. But did you know that you can optimize your markdown calculations and use discounts more effectively, reducing inventory while optimizing your return on investment? In this article, we'll explain how.
Offering discounts in fashion retail
Fashion retail is volatile and fast-paced. Thanks to discount battles like mid-season sales and shopping week, it seems like the entire year is becoming one big sale. Plus, the wide range of product types means that prices need to be optimized constantly. To top it all off, seasonal fashion items have an extremely short life cycle: coats that might be flying off the shelves in the fall aren't interesting to customers anymore come spring. 
Offering hefty discounts at the end of the season in order to make room for new inventory is almost never profitable. And yet, markdown pricing still plays a central role for retailers in avoiding large margins and profit losses. Thankfully, AI (artificial intelligence), dynamic pricing and machine-learning algorithms can help by suggesting optimized prices and thereby reducing markdowns. Only by coordinating the amount and timing of your markdowns can you effectively minimize risks and maximize profits. 
How can machine-learning-based dynamic pricing software help when it comes to optimizing markdowns?
Fashion retail giants like Zalando or ABOUT YOU are leading by example: they have automated all of their pricing-setting processes using Artificial Intelligence. This has enabled them to continuously set optimized prices for every product across their sales channels. How? Machine-learning-based pricing software uses so-called price-finding algorithms, which forecast the effects of various price reductions on sales and profits. Advanced pricing software is able to take a wide range of criteria into account, such as product groups or categories, current inventory levels, competition intensity, competitors' prices, current demand, emerging trends, and even the weather. The system can also generate customized discounts for individual regions and articles. 
Based on the algorithm's pricing forecasts, prices are optimized to achieve the highest profits with the current inventory, and to sell off by a set deadline. The results of the pricing forecast allow the algorithm to raise and lower prices, automatically optimizing markdowns and profits for a given item throughout its lifecycle. Retailers determine how often the prices should be updated, with possibilities ranging from weekly to multiple times a day. Omnichannel retailers can also identify the ideal prices for their respective touchpoints, from their online shops, shopping apps, or retail stores. 
Machine-learning-based dynamic pricing software has the unique capacity to learn from discount campaigns and to continually adapt and improve. The software not only learns from past data, but from categories and brands, too.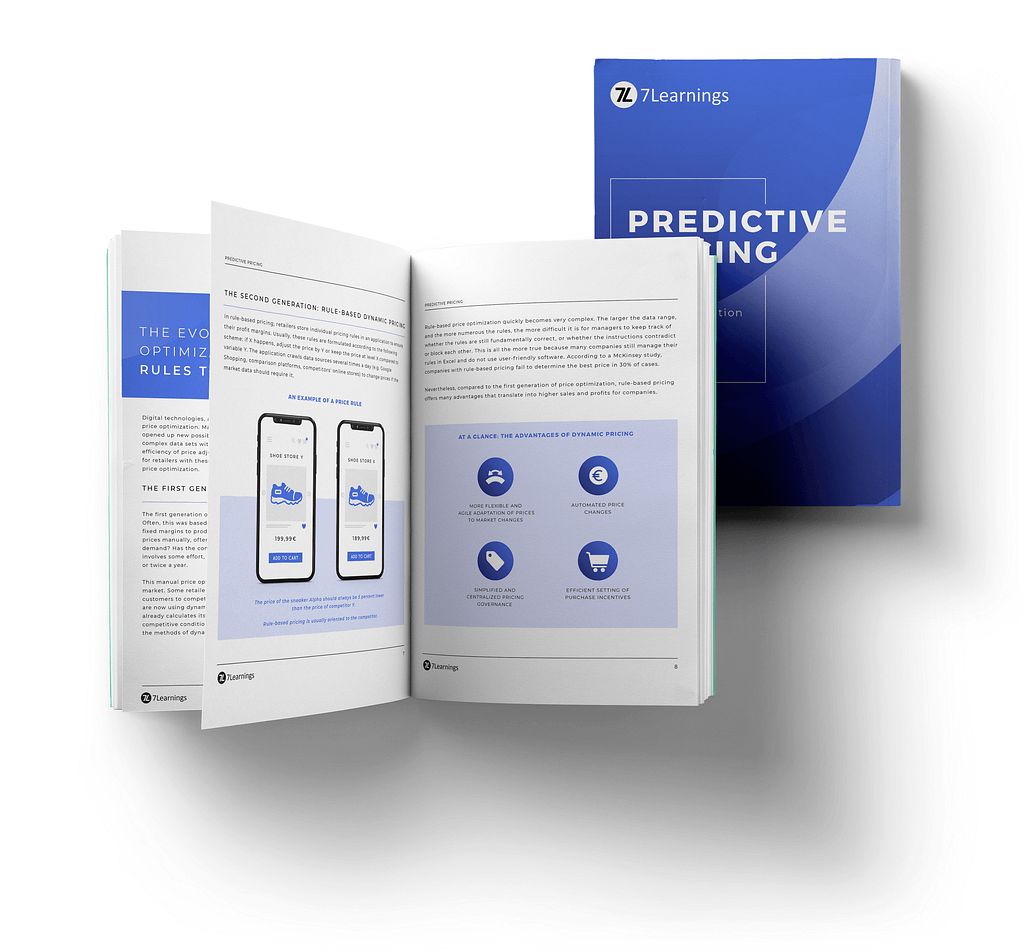 How to upgrade to the latest retail price optimization technology 
Setting prices: the advantages of advanced pricing software for fashion retailers
Save on personnel and resources

Comprehensive inventory management, lower inventory levels, lower costs

Increase turnover and profits through sales planning with optimized price points

React quickly to changing situations such as purchasing conditions, competition, weather, etc.

Ensure perfect timing when it comes to discounts and price reductions

Simple omnichannel management

Software automatically takes delivery availability into account
Ideal price setting with advanced pricing software
Dynamic pricing based on machine learning is no longer a pipe dream: it's been a reality for awhile now, especially for market leaders. Zalando has even gone a step further, using AI advances to enhance customer experience. Stacia Carr, Director of Engineering, stresses the importance of "using huge amounts of data as well as technology like machine learning to show that we know our customers better than anyone else."
For example, the online giant offers its customers custom outfit suggestions upon request with Zalon, a personalized shopping service. Thanks to affiliate programs, third-party partners can use the Zalando marketplace as a sales channel, allowing customers to benefit from a huge selection of brands and articles. A wide variety of discounted items enhance the customer experience further. Here, dynamic pricing plays a central role and would not be cost-effective without AI.