For most retailers, it is advisable to have a pricing system in place that can react quickly to stock constraints. Sudden supply chain disruptions or a surge of demand for certains products, such as those seen during the corona crisis, can make stock constraints a critical factor when determining prices. That's where inventory-based pricing comes in. In this article, we'll explain what inventory-based pricing is and how to use it effectively. 
What is inventory-based pricing?
Inventory-based pricing, also known as stock-based pricing, is a form of dynamic pricing where prices are adjusted depending on stock levels or forecasts. While lots of factors go into determining an item's price, including seasonality, day of the week, competitor prices, etc., the actual amount of a given product you have on hand is extremely important when calculating prices. 
Conditions that help determine price may shift rapidly, especially as inventory fluctuates. For example, a retailer might have a full stock of a certain item at the start of the week. In this case, because more items are available to meet market demand, it might be advantageous for the retailer to set lower prices. As those items sell off, however, stock levels will diminish and the price for the item may need to rise to avoid running out of stock. As soon as the inventory is replenished, the prices may go down again, and so on. In short, the price of items is determined, at least partially, by the current stock supply.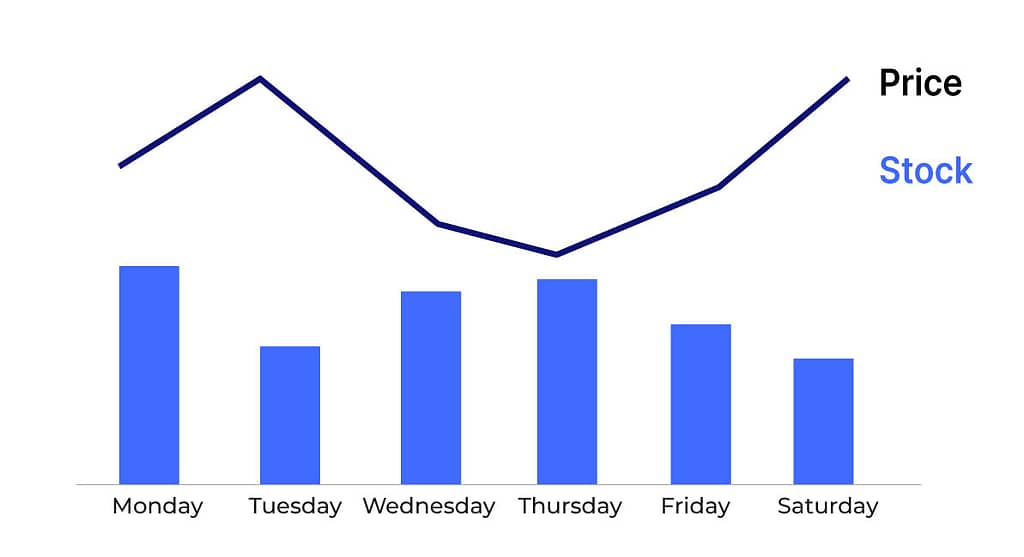 There are several ways to determine prices based on your current inventory, depending on what your business goals are at any given moment. Here are the most common strategies for setting prices based on inventory:
Lower prices when stock is high:

If you're looking to quickly sell off unwanted items at the end of the season, or if you want to increase brand awareness by offering competitive prices, implementing low prices when inventory is high could be advantageous.
Raise prices when stock is low:

When you're running low on inventory, you may want to raise prices so that you avoid running out of stock, increasing your margins when supplies are tight. This is especially true when demand is high and other factors like logistics and supply remain uncertain. 
Lower prices when stock is low:

If it is certain that seasonal or older items need to be cleared out to make room for new inventory, you may want to consider lowering prices to encourage sales. 
Stick with your standard price when stock is high:

Sometimes the best strategy is to keep things steady. If confidence is high that items will be sold off at a good pace, it may be better to keep your margins high rather than gambling with lower prices. 
What are the advantages of inventory-based pricing?
As we've mentioned, pricing solutions that react quickly to stock constraints are an important part of any effective online retail business. Inventory-based pricing keeps retailers in the driver's seat, increases profits, and helps make sure they keep ahead of the competition.  
As the corona crisis has shown us, supply chain issues combined with an uptick in online sales can have meaningful effects for omnichannel retailers. Items that were once easy to access might suddenly be in high demand, causing prices to rise. What's more, when factories or logistics services are not able to run at full capacity, this could impact how quickly a retailer's inventory can be replenished or delivered. All this punctuates the need to stay tuned in to stock levels at all times and to react quickly when things begin to shift. 
For retailers that work with limited stock, inventory-based pricing is especially crucial to maximizing profits and ensuring the timely sell-off of seasonal products. Here, prices are an important parameter in steering the demand of each individual item. Retailers often make the mistake of waiting too long with discounts, leading to high stock levels at the end of the season which then need to be sold off at lower prices. This leads to a negative impact on profits.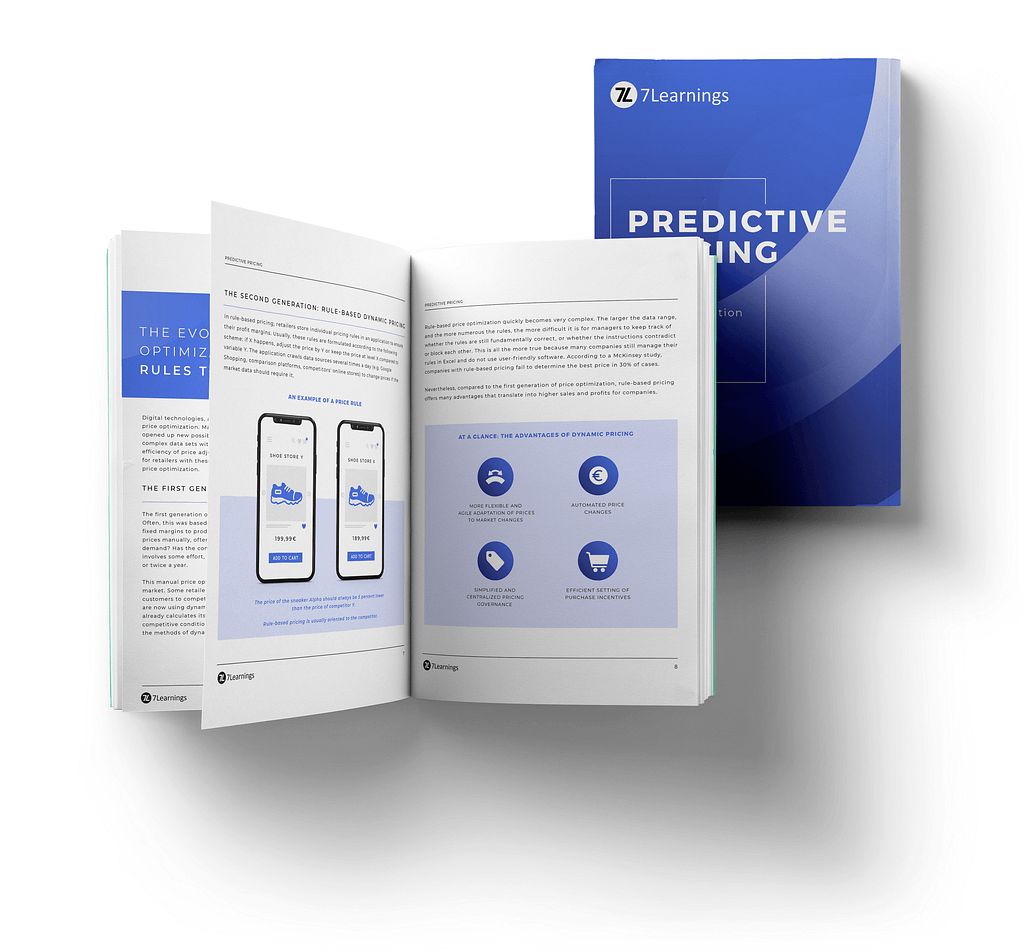 How to upgrade to the latest retail price optimization technology 
How to implement inventory-based pricing?
Price setting is as complex as it is vital, and when it comes to implementing inventory-based pricing, there are several factors to take into account. What is the general pricing methodology already in place? What kind of technology are you using? What are the other factors determining your pricing? All this and more will determine your approach.
Retailers generally have two options when implementing inventory-based pricing:
A rule-based pricing system wherein data is entered and moderated manually
An algorithm-based system powered by machine learning
When it comes to online retail, a machine-learning approach is almost fully automated, meaning it can calculate prices on a more gradual level and react more quickly than a more conventional approach. With a rule-based pricing system, retailers are forced to set price rules manually and constantly monitor stock and other changing conditions, wasting time and precious resources. With machine-learning software, retailers can rely on intelligent algorithms to maximize KPIs.
Automated pricing software puts the retailer in complete control of their stock, making it possible to implement strategies that further business goals. With an algorithm-based system, retailers can implement a variety of tactics, including:
Allocating a certain amount of their stock to be sold off in a certain amount of time
Defining a sell-through rate as a target
Automatically connecting data from the supply chain department (e.g. stock forecasts) with the pricing algorithm
This approach not only allows retailers to adapt their prices automatically to changing conditions, but frees them up to focus on more important aspects of their business. Another advantage is that machine-learning-based solutions often deliver "demand forecasts" as an additional feature. These forecasts can help retailers manage their stock and reordering more effectively. All this leads to higher turnover and profits.
How can 7Learnings help with dynamic pricing
When it comes to setting prices that incorporate everything from inventory, seasonality, competition, and more, 7Learnings has you covered. With our dynamic pricing software, we have helped some of Europe's leading online retailers improve their price-setting processes through machine learning. Inventory-based pricing is complex, and our software solution helps you react swiftly to any changes that could impact your business. If you want to learn more about the potential of next-generation dynamic pricing, reach out and book a demo today.