What are Private Label Products?
In short, a lot of your favourite 'store brands' are private label products. These are manufactured by a third party but branded, labelled and sold by another retailer. A well-known example of this is American retailer Costco's well known "Kirkland" brand of products. 
The manufacturers and suppliers of such products don't share any responsibility or marketing costs for the products once they are sold on to customers. 
Private label goods are often CPG (consumer packaged goods) or FMGC (fast-moving consumer goods) – these can include staple food items such as milk and canned vegetables as well as beauty products, paper products, soft drinks and many more that consumers will add to their weekly shop. 
These products are just the start; retailers can also offer a range of other private label products. With retail margins being razor-thin, many retailers are looking for strategies to increase their margins. 
Thanks to increasing customer confidence, there has been a further expansion in private label products, resulting in the inclusion of clothing and alcohol, for example. This has also resulted in retail avenues expanding beyond brick and mortar stores into e-commerce channels as well. 
Due to their price, private label products tend to increase in popularity during times of economic downturn as many face financial hardship. During the great recession of 2007-2009, the increase was evident because they allowed consumers to save money on essential items.
The coronavirus pandemic had a similar effect on the private label sector, as people look to save money in uncertain times. The change in spending habits means it's a prime opportunity for retailers to seek new opportunities with private labelling or to improve their strategies for existing private label products. 
The Pros and Cons of Private Labels in Today's Market
The market for private label products has grown substantially and continues to expand. According to a Nielsen study across more than 60 countries, private label products continue to gain market share across all major geographies. 
Currently, private label products are seeing an increase in the European market, particularly those that are premium level – sales have overtaken the US market by nearly four times the amount sold in America. 
Additionally, the rise in e-commerce has further supported the expansion of private label goods, giving retailers a new channel to reach consumers, even as retail stores were forced to close. The growth in the digital market offers consumers more control and choice in their purchases, creating favorable conditions for private label retailers. 
Overall, due to steady market growth for private label products and their demonstrated performance with consumers, retailers can only stand to benefit by adding private labels into their assortment if they haven't already.
For retailers with established private label brands, it's a great time to optimize their pricing strategies to make sure their private label products perform as strongly as possible against competing brands. 
The Advantages of Private Label Brands
Why should retailers consider private labelling? There are many reasons, including:
Due to the fact goods are manufactured by a third party, it's less expensive for the retailer – leading to a higher profit margin. For example, grocers tend to stock private labels because they offer this higher profit margin per item, which help offset the lower margins they get from branded products.
Private labels fall outside of manufacturer advised pricing (MAP) guidelines that branded products must follow, which provides retailers with more control over their price setting. Because of this, retailers have more flexibility in their marketing strategy and allow them to price and discount these products independently.
Reduced operational costs
Most private label products tend to be FMCG items that are inexpensive to manufacture and are produced at volume. Often these are goods that sell themselves; therefore, they do not typically require advertising campaigns or associated marketing expenses. Due to this, retailers have more control over pricing and discounting these products.
Private label products are popular with consumers due to their unique intersection between quality and affordability. Due to their tendency to be less expensive than branded goods, private label products continue to experience steady sales, or even a growth in sales, through economic downturns – meaning they are an attractive addition to any retailer's assortment. 
As noted by McKinsey, consumers tend to increase their private label consumption when the economy isn't doing well. After the economy recovers, consumers will often continue this changed shopping behavior, as they want to be more cautious about spending and wanting more value for their money. 
The Disadvantages of Private Label Products
It is also important to consider the disadvantages of these products, some things to consider include:
Consumer perception is the most obvious challenge when stocking private label products because they are typically priced lower than established national brands. The cheaper price point of private label products means they have a weaker brand value.
There is notably less loyalty when it comes to private label brands as they are typically purchased because they are less expensive than branded products. While there may be some periods of stability, there isn't brand loyalty to the same degree, and consumers of private label brands are likely to be more prone to brand switching based on discounts and availability.
Dependence on market conditions
Private label products' performance depends on market conditions since they tend to piggyback on the sales of related branded products and not have their own marketing campaigns of advertising. But as mentioned above, once consumers are introduced to a private label product and find it a suitable alternative, they aren't quick to abandon it for future purchases.
As retailers source private label products through third-party manufacturers, they don't have as much control over the manufacturing process and the level of product quality. While for many FMCG products, this isn't a major issue, if there are any quality issues at any point, it can create problems at a customer service level.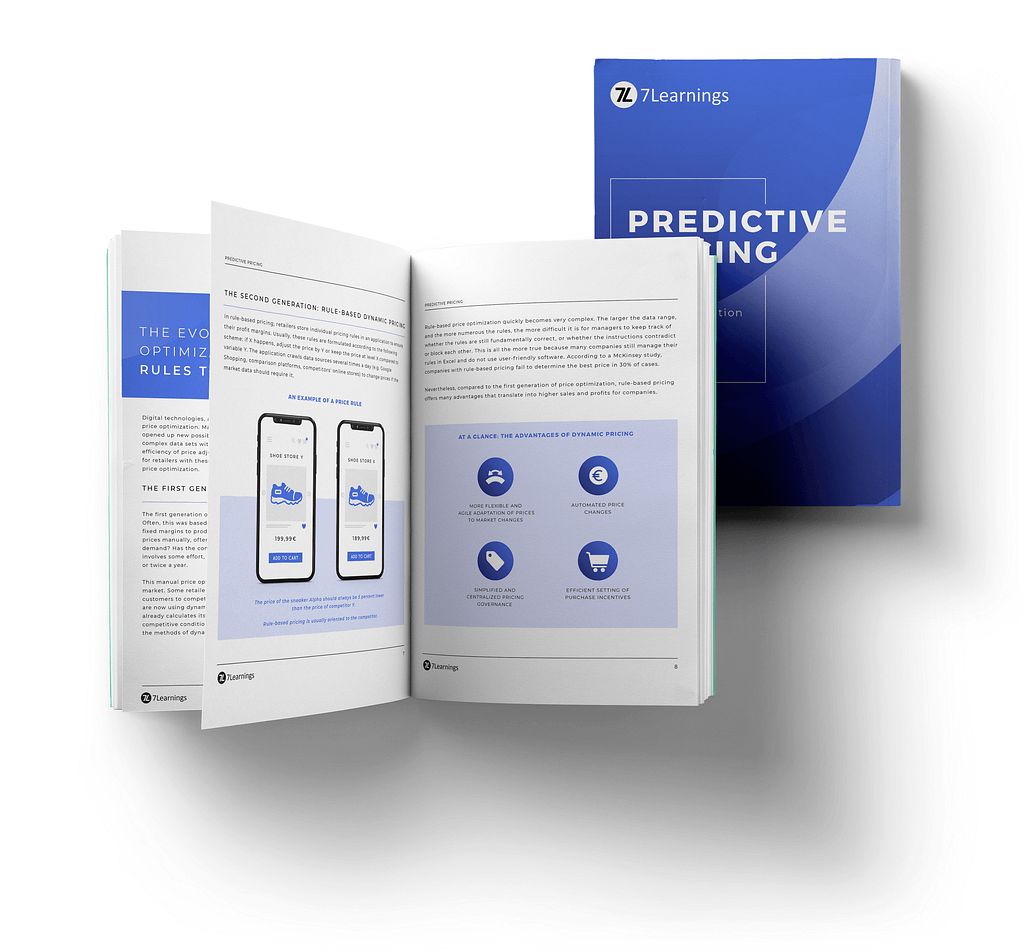 How to upgrade to the latest retail price optimization technology 
The Challenges of Private Label Brand Pricing
While there are clear advantages in selling private-label products and brand pricing, retailers should also consider its challenges. 
For one, the lack of MAP policies is both an advantage and a disadvantage. While it provides a retailer complete control over pricing private label brands, it also means that greater responsibility for the product pricing lies in the retailer's hands. It is crucial to consider the broader product category in these cases and to set prices accordingly. 
When considering the decision from a price strategy perspective, the greatest advantage of private label products is that they allow retailers to compete against categories and brands they were previously uncompetitive against. The ability to discount private label products to a competitive degree can help to attract price-conscious consumers. 
While setting these prices can be a challenge overall, as there is a lack of a competitive anchor to fix them against. However, there are ways of monitoring competitors' products and product categories to use these prices as a reference to optimize private label brand pricing. 
In addition to this, etailers should tap the potential of their own data by measuring price elasticities. With the help of price elasticities, optimal prices for private label products can be determined. 
When undertaking elasticity based pricing at scale, they can turn to AI and machine learning technology. The technology can process various data features such as historic transactions, seasonal trends, competitors prices, sales channel and determine how these factors influence customer behavior and price elasticities. 
Using a machine learning & price elasticity based approach to determine price optimization, retailers can effectively control their private label brand prices and set them against their profit and revenue targets.
Private Label Pricing Strategies
When looking to formulate a pricing strategy for private label brands, there are some key strategic points to keep in mind; these include:
Creating pricing consistency
Price setting for private label brands should align with the strategic goals of the retailer. If the intention is to create a private label product with a more premium brand perception, the pricing needs to be in line with that. 
The most important consideration is that pricing across products needs to be consistent for all consumers and across locations. One product in the assortment can't be priced lower than a well-known brand's product, for example, and another product is priced significantly higher. 
Therefore, price setting needs to consider more than just costs and brand intentions as a whole.
Being clear about the brand positioning
What is the private label brands competing against – is it another retailer's private label category? Directly with established brands? Or both? By being clear about the competitive space, retailers can be more accurate in their price steering and the data they collect to help inform it and set appropriate prices using this data. 
Utilizing data and analytics
Machine learning-based pricing software is essential to private label pricing strategy. It provides a simple, straightforward way to gauge consumer purchasing behavior and the influence of pricing on demand. 
By relying on both internal consumer purchasing data and external factors that influence consumer behavior and demand, it becomes possible to optimize prices for private label brands without needing to rely on competitor price data. 
Over time, machine learning-based pricing software can help retailers respond to fluctuations in the market and consumer demand, giving them greater insights into consumer demand trends and how their pricing can best evolve to maximize their targets for profit and revenues.
Capturing data-based insights for markdowns and promotions
As mentioned above, due to the lack of MAP policies, retailers have more control over the pricing of private label brands. They can independently decide when to run promotions and to set strategies that are most effective for their business goals. 
Similarly, markdowns are also independently set by the retailer for private label brands. However, as retailers are on their own in strategizing markdown amounts and campaign timings, it can be challenging to know when best to offer a discount or for what amount. 
It is in this instance that machine learning-enabled price optimization solutions can be hugely beneficial. Armed with the ability to gauge consumer demand against target prices, retailers can easily measure the effect of markdowns on their profits and revenue margins in advance, helping them forecast demand and therefore set the right discounts at the right time. 
How 7Learnings enables intelligent private label pricing
At 7Learnings, we support retailers by forecasting how price changes with advanced machine learning technology. Using deep learning algorithms that utilize data sets derived from a range of influential factors, including internal and external data, enables the opportunity to identify customer demand and the drivers of price elasticity. 
Based on these drivers, our software forecasts profit and revenue for all relevant price points. Because of this, retailers can optimize their profits in a matter of minutes using our intuitive target steering platform. Using our software, users can quickly run different scenarios to assess the impact of different business targets. The optimization can be customized by applying individual rules, meaning the user can choose the level of granularity needed and create rules on a brand, category or even product level. 
If you are a retailer with private label products, our software is uniquely suited to helping set optimal prices as it does not require competitor data to do so. By utilizing an intelligent array of data sets that pull from factors that influence consumer purchasing behaviour and associated demand, our machine learning models can help to optimize prices.