What is cross-marketing optimization?
As any marketer knows, any successful marketing strategy revolves around different channels and how all of these connect (and affect) each other. From email marketing to SEO, all of these different activitied need to be covered and accounted for, in order to properly create a dynamic, efficient customer journey, all the way from impressions to conversions. And now, with our cross-marketing optimization, you connect pricing and marketing decisions, knowing how one affects the other – improving results on both.

Looking at marketing optimization and pricing, both have mostly been kept separate, with retailers ignoring the fact that, naturally, one affects the other. Both marketing activities and pricing strategies drive consumer demand, for example, and between each there's a synergy that has been mostly ignored, creating a lost opportunity to create a pure holistic approach that connects one to the other, optimizing both.
A lost opportunity until now. Through our experience with leading retailers, we managed to create an innovative cross-marketing optimization feature in our predictive pricing solution that, for the first time, connects both, leading to better results across the board.
What is marketing optimization?
There are many forms of marketing optimization that businesses can tap into to elevate their marketing activities and improve their results. Some examples include:
Retargeting: retargeting is the process of familiarizing your audience with your brand and offerings by promoting your company across various channels which they visit. A tool called a pixel helps to track user activity and to show ads to high value customers on other sites and platforms. 
Search marketing optimization: search marketing optimization involves developing content which is optimized for search engines (SEO), aiding in promoting a company's site and products in Google search results. 
E-mail marketing optimization: e-mail marketing is 40 times more effective at generating new customers over social media channels than Facebook and Twitter. By optimizing e-mail content and developing a compelling e-mail strategy, this can be a highly impactful marketing tool for retailers. 
Search engine advertising: related to search marketing optimization, search engine advertising (SEA) is also a critical tool that retailers can use to optimize their marketing. This method provides retailers the ability to show up at the top of search results, improving the likelihood that a customer will visit their page and convert into a potential sale.  
Discounting and coupon strategies: discounts and coupons are a common strategy used by retailers to help encourage customer willingness to spend. They can be used in different ways, either by applying a discount across an entire product assortment or by offering a coupon to targeted customers. With advanced tools and AI technology, there are now exciting new ways for retailers to optimize their discount and coupon activities. 
Cross-marketing optimization: pairing marketing activities with pricing
7Learnings' innovative predictive pricing technology gives retailers the ability to forecast the impact of their pricing decisions on their profits, revenue, and other key business goals. Through our experience working with leading retailers in Europe and around the world, we learned that a key function lacking was the ability to accurately determine the impact of marketing activities on profits and revenues through the lens of pricing. 
As we explained before, at the moment retailers optimize their marketing activities and pricing separately from each other, ignoring the fact that both are important factors that drive consumer demand, often in correlated and influential ways. There has never been an efficient, holistic approach that connects both, forcing retailers to miss out on a huge opportunity, spending more money while creating less. But how does this happen, exactly?
Let's look at an example: if a retailer decides to invest heavily on marketing, this naturally represents a budgetary cost that eventually needs to be regained through pricing, as decided on the sales side. Meaning that by spending more money on one, you'll need to recoup by making more money on the other.
What if you could predict the effect of that marketing spend on profit and revenue goals related to pricing, however? What if, by predicting this, you could optimize both your marketing and pricing strategies in correlation, diminishing spend and increasing profits? There are an infinite number of marketing activities that affect pricing and vice-versa, but there has never been the ability to actually predict how one affects the other, until that change is actually implemented. This means more money spent on both, and less profit in general.
Through our experience, we knew that the ability to optimize marketing activities in conjunction with pricing decisions and strategy could create an untapped opportunity. 
So, we created it.
Our recently developed software feature offers retailers the innovative ability to cross-optimize marketing activities with price optimizations. This, tied to our machine-learning-powered predictive pricing technology, allows for powerful cross-marketing capabilities, reducing cost and increasing profits across the board. With these new tools, you can gauge which strategy creates most growth and profitabilitiy. For years, our solution has allowed retailers to predict the impact of their pricing changes before they happen. Now, we're the first ones to allow them to do the same for their marketing strategy.
Through our feature, we offer the following tools:
All of these activities can now be optimized with 7Learnings' singular tool, giving retailers even greater control over their price and marketing steering – together, not separately. By doing this, you can save time and increase results in both fronts simultaneously.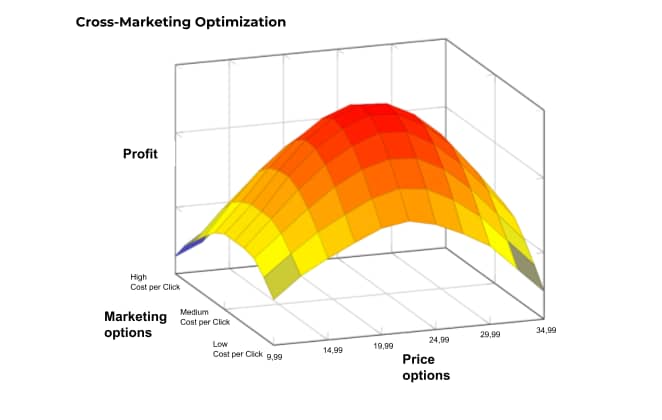 How can retailers cross-optimize their marketing with their pricing strategy?
Running discounts is a key marketing function for most retailers today. Discounts are an important way to capture customer interest and convert to sales, as many customers are price-sensitive and appreciate discounted rates. Discounts may be applied on the product, category or assortment level, for certain durations of time, or for different values depending on the audience segment. 
In our experience, it is always smarter to set differentiated discounts on a product level. Flat discounts on category or even assortment level do not make use of varying price sensitivities per product. In order to do this you need the technology to measure price elasticities on a product level. With our discount optimization feature, we are able to do this.
Our discount optimization feature allows retailers to determine optimal prices according to their business goals. The software informs the retailer what revenues and profits can be achieved with the pricing lever. From these options, the retailer chooses the goals that are closest to his or her financial plan. The software then determines the optimal prices for the given strategy. Retailers can set different strategies for different categories or products. For example, a retailer can set a more aggressive revenue goal for a certain category or product scope (e.g. products from the previous season). Instead of utilizing a flat discount on this product scope, the software calculates differentiated discounts per product.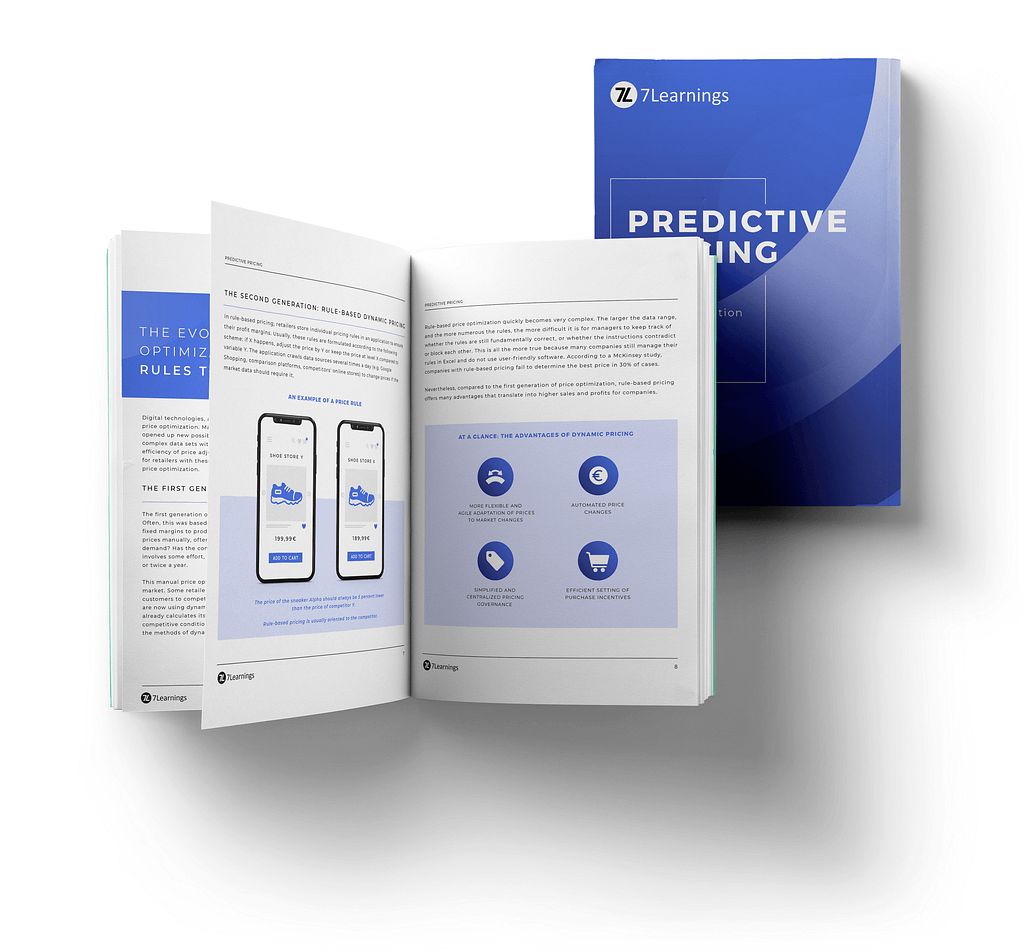 How to upgrade to the latest retail price optimization technology 
Coupons or vouchers give retailers the ability to provide a discount to either a specific pool of customers, or on targeted products. A coupon-based marketing strategy can be highly effective in terms of capturing customer interest and engagement. 
7Learnings' coupon rate optimization feature allows retailers the ability to determine the optimal coupon rate, by forecasting the impact of different coupon rates on profit and revenue outcomes. This tool provides retailers the ability to find the sweet spot between customer's willingness to spend, the coupon rate, and the product price points which will provide the maximum profits.
SEA spending optimization
SEA spending has a direct correlation on business results, generating valuable traffic from customers who are primed to spend. Knowing the right amount to spend on SEA and the ideal prices to match SEA spending values can be a challenge, however. Our SEA spend feature lets you forecast the impact of SEA spending strategies and the impact of different budget values on business results.
7Learnings' software can input the latest marketing budget changes, using this data to adapt and recommend the optimal price values according to the SEA spending changes. This allows retailers to determine what the optimal SEA spend level for their company is, by creating optimizations for different SEA spend scenarios. 
Marketing spending optimization
Paid ads, aka SEA (search engine ads), spending has a direct correlation on business results, generating valuable traffic from customers who are primed to spend. Any marketer knows how important performance marketing is, and how directly it can impact your overall results, from reach to profit. The sooner a business shows up on a search result (say, first page compared to second or third), the bigger its reach and, ultimately, the bigger conversions it can get, with conversions being the holy grail for marketers everywhere. With paid ads, competition these days is fierce, and knowing the right amount to spend on ads and the ideal prices to match SEA spending values can be a challenge. Our marketing spend feature lets you forecast the impact of SEA spending strategies and the impact of different budget values on business results.
How does this work, exactly? Let's look at it, step by step:
First, we collect the necessary data, looking at individual products, traffic data per product, marketing cost per transaction, and also the different marketing options

From this data, we're able to know how different changes will impact your business..

We're able to predict traffic, conversion rates and cost per click (CPC)

, thus being able to determine what are the most efficient decisions regarding your marketing spending.

Lastly, we take all this info and optimize and deliver

the optimal marketing steering option (regarding CPC, for example), along with the optimal price per product.
Through this, we give you the best possible option for both your SEA marketing options and your product prices, making sure both deliver the best results.
7Learnings' software can input the latest marketing budget changes, using this data to adapt and recommend the optimal price values according to the SEA spending changes. This allows retailers to determine what the optimal SEA spend level for their company is, by creating optimizations for different SEA spend scenarios. 
What are the benefits of cross-marketing optimization?
Bluntly, a joint optimization of both marketing and pricing can increase profits by up to 15%. With our cross marketing optimization capabilities, retailers are able to align their pricing and marketing efforts via a joint forecast, allowing to cut costs and increase results for both. As we've explained, the software provides the ability to input different variables, including targeted coupon rates and SEA spending amounts.
For example, an optimization can be run to forecast the impact of pricing decisions while taking 10% coupon spending into account. It's possible with the software to also analyze the impact of different coupon rates and SEA budgets as well, which will be detailed in forecasted results.  
These forecasts can then be used to gauge the impact of different coupon rates, SEA budgets, and discounts on sales and profits, allowing retailers to find the ideal amounts for each.
This powerful forecasting capability provides retailers with a unique ability to optimize their marketing activities with their pricing strategy. This cross-optimization functionality helps to maximize profits and supports business growth, leading to:
Higher profitability:

an increase of profits and revenues by up to 10%

Reduced manual work:

a dramatic reduction in the efforts required to administer and implement price rules and marketing activities

Effective cross-optimizations:

price setting which considers all relevant internal and external factors in conjunction with targeted marketing activities

Intuitive steering based on targets:

prices are optimized towards set targets and marketing strategies 
How can 7Learnings help you implement marketing optimization for your business?
7Learnings' predictive pricing technology software lets you optimize marketing activities, such as coupon and discount decisions, alongside pricing decisions, all in one tool. By using our powerful cross-marketing optimization tools, retailers are able to:
Utilize leading deep learning technology:

Machine learning has changed the retail pricing landscape. With 7Learnings' powerful machine learning-based software, you access agile, adaptive technology that will keep you in pace with your competitors. 

Elevate your marketing and pricing strategies:

Tap into the full potential of your data and holistically optimize your marketing activities and pricing decisions, looking and correlated and influential factors. 

Reach the highest level of automation:

Our intelligent software takes the guesswork out of pricing and reduces manual effort. With a few clicks, you can forecast the impact of pricing changes on business goals. It's the most intuitive price steering method! 

Make pricing predictable:

With predictive pricing, retailers no longer need to manage a complex set of rules for pricing. Instead, they define their goals and the technology determines which prices will help them achieve them as quickly as possible.

Work with industry experts:

Our team of data scientists has vast experience in retail pricing, and understand the unique challenges and needs of the industry.