Black Weekend, Black Friday and Cyber Monday (BFCM) – thanks to these days, many businesses experience their best sales weeks of the year in November. Because of the strong discounts, millions of customers are motivated to shop early for Christmas- but is this still the case during the coronavirus pandemic?
Under pandemic conditions, retailers are entering the second year of BCFM. Strict regulations may dampen the appetite for a city shopping spree and limit bargain hunting to the digital realm. Despite this, analyses of the first Corona year give companies reason to be optimistic. 
In this blog post we present the results of BFCM 2020 and offer advice on how to use smart strategies to make this year's Black Friday weekend one of your company's most successful in history.
Review: Black Friday & Cyber Monday 2020
Black Friday and Cyber Monday originated in the United States. People worldwide are familiar with pictures of customers running into stores in the US. to to check out the full bargain variety. However, in its first pandemic year, customers had no waiting or crowds to worry about, according to an Adobe Analytics study. In the United States in 2020, sales on shopping days were primarily made digitally.
According to the statistics, online sales peaked early in the pandemic. Consumers in the United States spent approximately $10.5 billion more in online stores in April and May 2020 than they did in November and December 2019.
Despite the reopening of stores, the trend of shopping from the comfort of the home persisted: Black Friday 2020 became the second-largest online shopping day in US history, with $14.13 billion in sales. Only Cyber Monday 2020 outperformed, becoming the most successful digital sales event in history. That day, $10.8 billion were made, a 15% increase over 2019.
In Germany, Black Friday is a relatively new phenomenon. It began in 2013 and will reach its eighth round in 2020. This year, consumers spent 3.7 billion euros on Black Friday and Cyber Monday, according to the German Retail Association. The uncertainty caused by the Corona pandemic did not appear to dampen German shoppers' spirits. 
According to a Black Friday GmbH survey, 38.6 percent of German consumers planned to spend more than 300 euros, while 29.9 percent planned to spend between 101 and 300 euros. Only 10.7 percent made the frugal resolution to spend no more than 100 euros on shopping.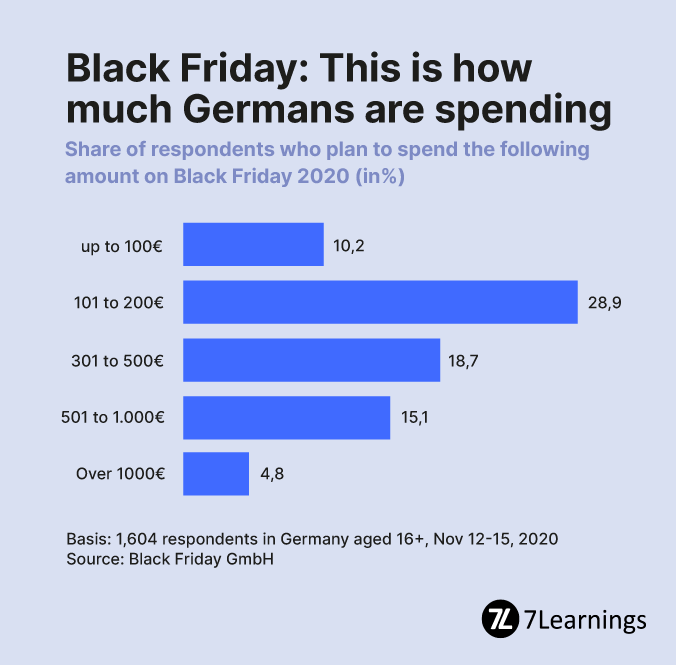 Meanwhile, shopping days have become commonplace in this country: 75 percent of those polled had previously made a purchase at the BFCM, and 53 percent were satisfied or very satisfied with their purchase in retrospect.
Germany's proclivity to buy on Black Friday and Cyber Monday 2020, according to Statista, was in the middle of the pack when compared to other European markets.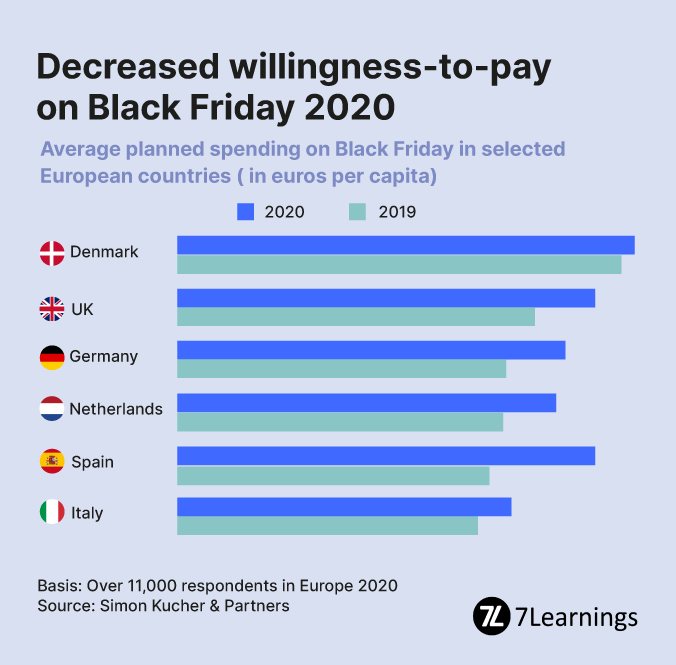 Learnings from Black Friday and Cyber Monday 2020
To ensure a successful shopping weekend, businesses should learn from previous years' experiences and incorporate new research on changing shopping habits during the Corona period. Here are Four key lessons we observed from BFCM 2020:
Long lines are gone in the USA - and not to be expected in Germany
In the United States, ardent shoppers begin camped out in front of shopping malls as early as the evening of Thanksgiving Day. For decades, the United States was the image of Black Friday in America. Crowds rushed in to buy jewelry, electronics, and toys as soon as the doors opened. This shopping frenzy is no longer with us.
Although the term "Black Friday" appears to be more prevalent in the media in 2021, the on-site shopping experience is also expected to take a back seat this year. Market observers expect the trend to continue through 2020: The vast majority of sales will be made online. On the one hand, because of the Corona pandemic, consumers are naturally avoiding crowds and prefer to shop safely from the comfort of their own home; on the other hand, because distance and customer boundary regulations may be impeding a high frequency of sales.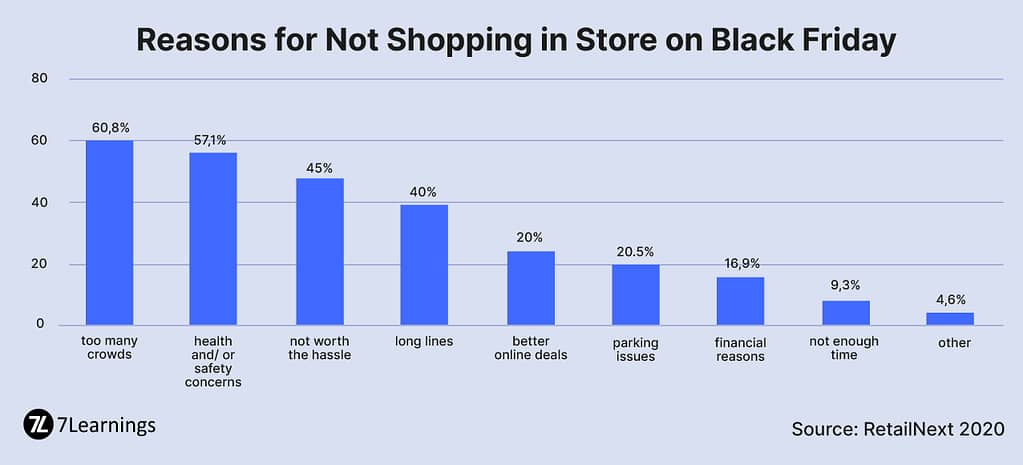 Following the previous lockdown's conclusion, there was a brief increase in in-store shopping. Accenture, on the other hand, predicts that 43 percent of customers will shop online rather than in-store in 2021.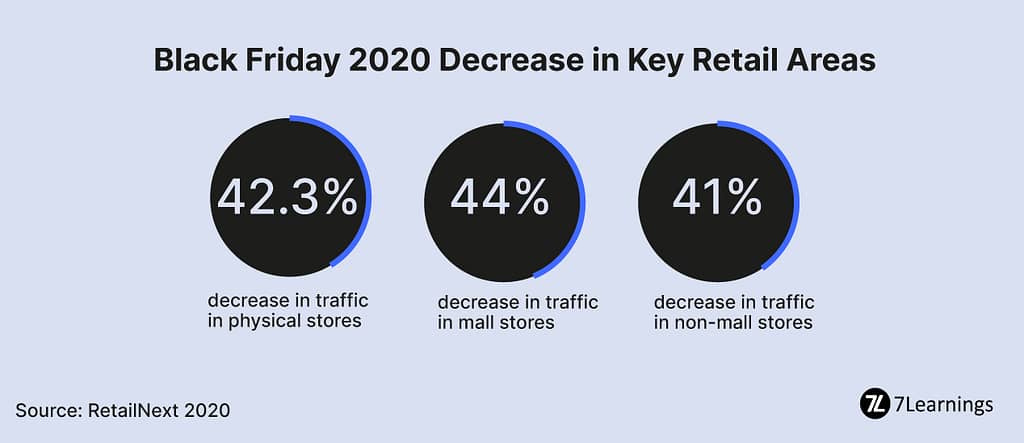 Extending the Black Friday Period
What started with Black Friday has evolved into a month of discount days, with companies luring customers to their (digital) checkouts with exceptional discounts on Cyber Monday, Small Business Saturday, and Singles Day. Because all activities are not concentrated on one day, customers have more time to make purchasing decisions.
This was especially evident in 2020 for Black November and the corona pandemic was to blame. Retailers feared a weak Christmas season due to social distancing and the crisis mood, so they began their discount campaigns much earlier than usual. In the United States, retailers such as Walmart and Target began offering discounts as early as October, and Amazon moved its annual Prime Day from October or November to June, as is customary.
Prior to the pandemic, there was a trend toward beginning the holiday shopping season earlier and earlier. There are numerous reasons for this. Customers are more likely to spend their vacation money at the checkout as the shopping season lengthens. Since some large companies announced their discount campaigns, the pressure on competitors to follow suit has increased. At the same time, the extended sales period reduces employee workload. Higher sickness rates can be managed if demand is spread across multiple discount periods. Furthermore, popular products sell out quickly when discount campaigns are limited to one or two days. Longer periods facilitate replenishment planning and sales growth.
Innovative technology improves the customer experience
Prior to the pandemic, retailers were slow to incorporate artificial intelligence (AI) and virtual reality (VR) into their processes. The ongoing Corona pandemic, combined with the trend toward online shopping, has resulted in an evident change: corporate investment in artificial intelligence and new technologies has skyrocketed. Retailers want to ensure that they can serve increased online demand efficiently, cut costs in an uncertain environment, and win customers by providing a superior online user experience.
According to Juniper, global retail AI investment in 2018 was $2 billion, but it is expected to more than triple to $7.3 billion by 2022. Experts estimate that the pandemic has accelerated the development of online shopping by about five years.Corporate investors are paying close attention to two technologies in 2020: augmented reality and chatbots.
Two technologies in particular were the focus of companies' 2020 investments: augmented reality and chatbots.
AR is a hybrid of physical and virtual reality. Customers, for example, can use smartphones and augmented reality technology to try on a new pair of glasses or a piece of clothing in the comfort of their own home. Will the new bed match the rest of the room's furniture? This, too, can be found out through the use of augmented reality.
Leading brands such as IKEA, Adidas, Sephora, and Gucci are already leveraging technology to make online purchases easier for their customers. According to Shopify, the investment is paying off: products previously visualized using AR have a 94 percent higher conversion rate than products advertised without AR.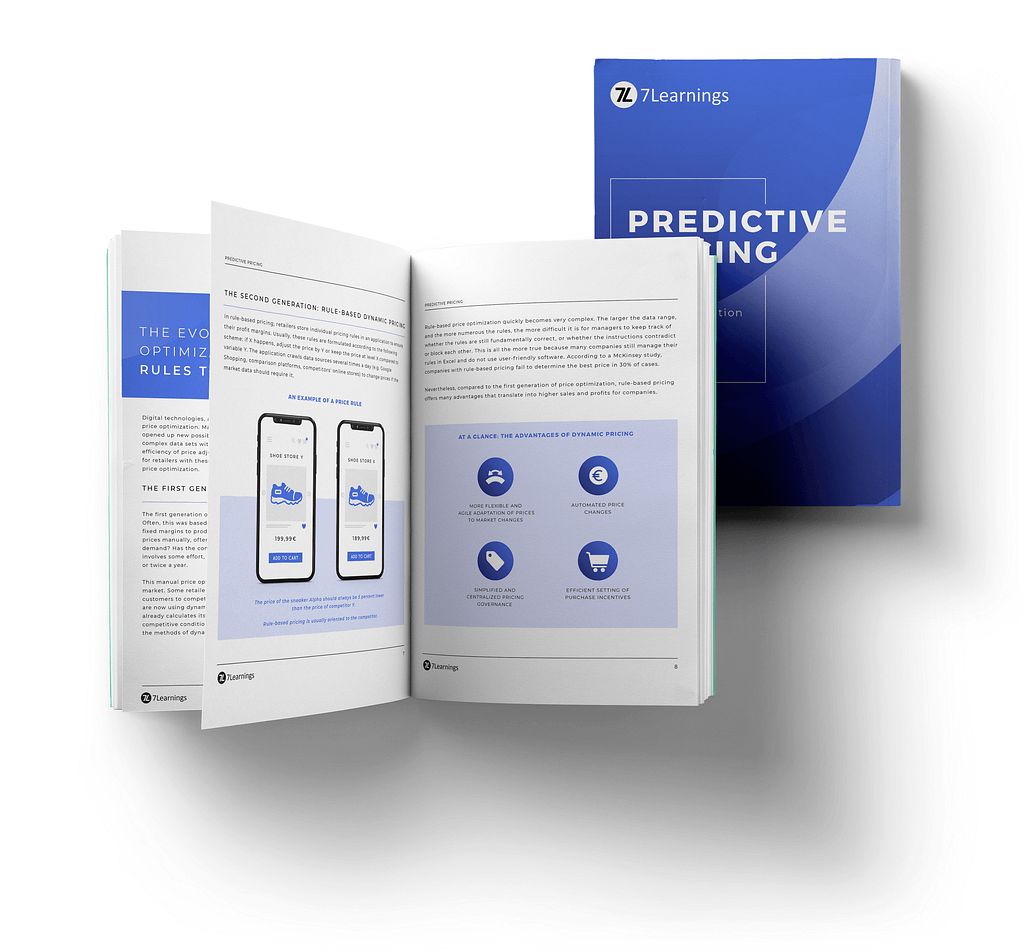 How to upgrade to the latest retail price optimization technology 
In the world of online shopping, advice and assistance are becoming increasingly important. Customers expect personalized and timely responses to their questions, ideally 24 hours a day, seven days a week. Given the abundance of comparable offers, service is increasingly becoming a distinguishing feature. In recent years, not only have customer expectations increased, but so has the volume of messages.
As a result, retailers are increasingly reliant on emerging technologies such as chatbots. Chatbots will already account for 70% of customer communication by 2022, according to a Gartner study. To avoid being overtaken by the competition, businesses must invest in chatbots now. However, in order to support the purchase decision and improve customer loyalty, communication must come across as human as possible.
Omnichannel shopping is thriving
In 2020, Black Friday and Cyber Monday were primarily online shopping events. Customers are returning in greater numbers to stores now that the Corona rules have been relaxed. Following a period of restrictions, many customers are consciously seeking out local retailers. As a result, the most successful companies will adopt an omnichannel strategy in 2021: The newly developed online sales strategies will be maintained, but they will be supplemented by the in-store shopping experience.
Customers can switch from one digital channel to another at any time or continue their purchase in a physical store. Marketing and sales focus on customer needs and adapt their strategies as needed.
A social media ad, for example, encourages a customer to visit an online store. However, there, they find the shirt they wanted is no longer available in their size. The customer, on the other hand, can reserve the desired garment in a store with a single click. Customers can also add items to their online shopping cart from their smartphone and continue their purchase from their tablet without having to select items again.
Local retail is not going away, but it is changing. With its pick-up and return options, it continues to play an important role.
How can businesses prepare for Black Friday weekend 2021?
Calculate for supply bottlenecks
As a result of the pandemic, businesses all over the world are experiencing delivery issues. This is because manufacturers and suppliers are falling behind schedule as a result of high levels of sick leave, and containers that are being held up on their way to retailers. So, companies must accept significantly higher manufacturing and delivery costs if they are to ensure that their customers have a full range of products to choose from in the run-up to Christmas. Availability, rather than price, will determine BFCM sales this year.
Regardless of whether or not the Corona pandemic is present, companies are being asked to plan strategically and ahead of time, as the demand keeps getting higher and higher. According to Deloitte research, demand will increase by 5% over the previous year. The average household will spend $1463 during the holiday season in 2021.
In order to capitalize on the potential sales, many retailers have already begun the bargain season in November. With the help of AI software and process optimization applications, businesses can accurately predict future demand and tailor their discount promotions.
Demand forecasting applications rely on complex algorithms that consider past market trends, historical sales figures, and future event probabilities to calculate demand for any point in the future. Forecasting can be used in a variety of business processes, such as inventory planning, production, financial planning, and risk management.
The primary benefit: Inventory levels that are too low or too high, as well as production downtimes and supply chain wait times, are avoided. All of this reduces costs, increases efficiency, and improves the customer shopping experience.
To learn more about inventory-based pricing, visit https://7learnings.com/blog/inventory-based-pricing/.
Avoid drastic discounts and promotions
Because of the intense competition surrounding Black Friday, businesses may be tempted to undercut each other on price to the point of cannibalizing their margins. Don't give in to the temptation to drastically reduce your prices without a plan or a limit.
Promotions such as "30% off the entire range" often cause more harm than good. Especially this year, when supply constraints may result in disappointment. Regardless, these discounts do attract buyers, but they have a long-term impact on customer expectations. However, retailers who offer these kinds of deals every Black Friday will find that 30 percent becomes the norm and the expectation from these clients.
Limit such discounts to individual products or product categories that are popular with customers and for which you are confident that there will be sufficient stock or trouble-free delivery this year if you want to motivate customers to visit your online store or store. In addition, as part of an overall marketing strategy, plan your discounts strategically.
It is no longer necessary to implement assortment-wide blanket discounts. Thanks to AI, we now have the technology to dynamically adjust prices to customer behavior and avoid cutting profits unnecessarily. With a tight supply chain, it's also critical to consider how discounts affect inventory so you don't miss the best time to reorder. AI-powered pricing software can simulate the impact of various price points and guide businesses safely through the holiday season.
With the majority of sales likely to be made online again in Black November 2021, businesses that rely on this smart technology will have a competitive advantage. You can respond faster, avoid over-discounting, and profitably optimize your offer.
Smart pricing with 7Learnings
7Learnings offers businesses a simple and smart way to optimize their pricing. With our predictive pricing software, we have helped some of the leading e-commerce retailers in Europe improve their pricing processes through machine learning. Using the latest deep learning technology, our application predicts demand, sales and price elasticity for each product. With just one click, our customers can generate market-driven prices that maximize profit while taking into account limiting factors such as current inventory levels. 
Click here for more: https://7learnings.com/blog/price-optimization-with-machine-learning-what-every-retailer-should-know/
Forecast demand and manage your profit
Companies today have more detailed information about their customers than ever before. It is simple to identify and analyze customer behavior and preferences online.
With the right software, retailers can see which age groups prefer which products in their online store, which search engine ads are most effective in generating sales, and even how support requests and sales history are evaluated to provide information about sales opportunities. In addition to the company's own data, insights can be derived from general web search trends and target group interaction on social media.
Companies are now better able to predict which customers will buy which products and at what price point thanks to advanced AI applications. This way, they can also control their processes with high accuracy. For example, if certain products are expected to be in low demand due to weather or regional events, a company can reduce orders, save on delivery costs, and fill warehouses with more appealing products.
However, artificial intelligence can also position existing products to maximize sales opportunities. This is accomplished by taking into account the customer's unique behavioral history. If a customer has added a black T-shirt to his shopping cart several times but has not completed the checkout process, he can be persuaded to buy after all through price adjustments and alternative product suggestions.
In brick- and mortar stores, sales personell were able to persuade hesitant customers in retail. However, in the case of online retail, the right AI applications can take over the necessary purchase encouragement. 
Forecast demand with 7Learnings
At 7Learnings, we help retailers not only forecast demand, but also estimate key KPIs such as return rates, outbound and inbound costs. After all, this is the only way to make the most accurate prediction possible for future profits. This poses particular challenges. This is because it is necessary to predict demand across the entire business as well as at the product level.
Learn more: https://7learnings.com/blog/demand-forecasting-a-new-use-for-machine-learning-in-retail/
Provide personalized shopping experiences
Most users accept that companies collect customer data through their online channels. They do, however, expect personalized shopping experiences in return. Customers are willing to share their email address (72%), personal interests (37%), zip code or address (33%), and phone number (35%), according to a Braze survey, in exchange for individualized product selection and exclusive offers.
Companies, on the other hand, are no longer solely reliant on their own data to better tailor their offerings to potential customers. Previously, product recommendations in online stores were solely based on the user's previous purchases. Amazon popularized this technology. In the meantime, it has become established and evolved: Today's applications rely on a variety of external data sources. They consider data such as age, life situation, and place of residence in order to make even more appropriate recommendations based on all of the information.
Those who have a good picture of their customers, due to various tools, can use pay-per-click ads to save money and increase conversions. A practice currently used by Google and Facebook and a large percentage of online retailers. Ads are accurately played out to the target audience with the help of sophisticated algorithms. 
For good reason, the number of these ads skyrockets around Black Friday and Cyber Monday. River Island, for example, attributed 82 percent of its Black Friday sales to real-time ads optimized with sales data. It's beneficial for businesses to become acquainted with data-driven ad formats, and not just for BFCM.
Optimize your marketing measures
Retargeting, search engine optimization, and e-mail marketing are just a few of the tools available in the online marketing toolbox. Companies that align individual activities with an overarching marketing strategy and regularly assess the effectiveness of measures will outperform their competitors, and not just on BFCM.
Companies today have every opportunity, thanks to advanced technology, to learn about their target group's needs and desires and develop campaigns that specifically address them.
The fact that more and more retailers are relying on these tools is shown by the increasing conversion rates: In 2020, the global average conversion rate for Black Friday was 4.5 percent, up from 3.8 percent in 2019.
Data-driven targeting via organic search engine results or PPC ads is one of the most effective ways for retailers to stand out from the crowd of vendors and discounts.
Cross-Marketing Optimization with 7Learnings.
7Learnings' innovative predictive pricing technology gives retailers the ability to forecast the impact of their pricing decisions on profits, sales and other key business objectives. From our experience, we know that many companies have been missing a key feature: the ability to effectively and accurately determine the impact of their marketing activities on profit and revenue through the lens of pricing. With our technology, we are closing this gap. 
You can read the details in our article:  https://7learnings.com/blog/demand-forecasting-a-new-use-for-machine-learning-in-retail/
Optimize processes? Maximize profits? This is how 7Learnings supports you!
With 7Learnings' predictive pricing application, you can optimize marketing and delivery activities and pricing decisions from a single tool.

Benefits of our optimization tool for retailers:
Advanced Deep Learning Technology: Machine learning has transformed retail pricing. With 7Learnings' powerful machine learning-based software, you have access to agile, adaptive technology that helps you keep pace with your competitors.
Smart marketing and pricing strategies: unlock the full potential of your data and holistically optimize your marketing activities and pricing decisions by taking correlating and influencing factors into account.
Highest level of automation: our intelligent software takes the guesswork out of pricing and reduces manual effort. With just a few clicks, you can forecast the impact of price changes on your business goals. There's no more intuitive way to optimize pricing!
Accurate demand forecasting: with our software, you can forecast not only demand, but also key KPIs such as return rates and costs to get the most accurate prediction for future profits and optimize your supply chain.
Pricing simplicity: with predictive pricing, retailers no longer have to manage a complex set of pricing rules. Instead, they set their goals and the technology determines which prices will help them achieve them as quickly as possible.
Knowledge edge from industry experts: our team of Data Scientists has extensive experience in retail pricing and understands the unique challenges and needs of the industry.
7Learnings helps leading European retailers optimize their prices with AI-based software. With more than 10 years of experience in machine learning, we have been able to increase our clients' profits by more than 10% on average and prove it through A/B testing.
Want to learn more about next-generation dynamic pricing? Contact us to schedule a product demo today.