Dynamic Pricing Community first in-person event in Berlin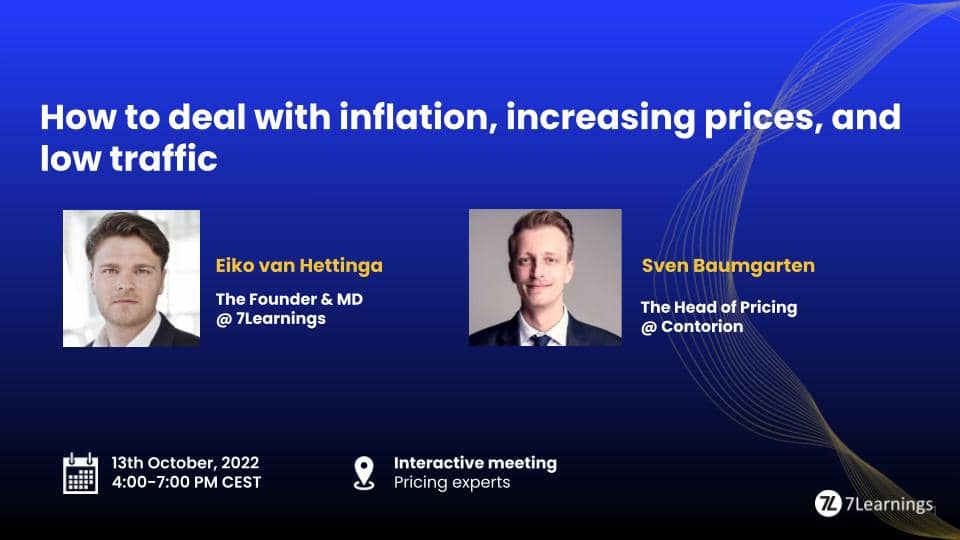 Berlin 08.11.2022 
7Learnings, 7 Dynamic Pricing Community events, +150 active executive members worldwide.
For us, these numbers speak for themselves.
Dynamic Pricing Community - How it started
Started in early January 2022, Dynamic Pricing Community by 7Learnings has connected more than 150 senior pricing professionals and over 16 speakers worldwide. 7Learnings has established a central meeting hub for pricing leaders who aim to create and nurture relationships by discussing and sharing experiences, knowledge, and resources. We have had notable speakers from the industry. Among them, you'll find:
Dynamic Pricing Community Vol. 7 - our first in-person event
In celebration of the Dynamic Pricing Community's rapid growth, 7Learnings decided to make our 7th edition special. Volume 7 marks our first-ever in-person gathering. The event occurred on October 13th, 2022, in our office in Berlin.
Seeing some familiar and new faces gathering together was a tremendous honor. More than 20 pricing experts from all over Europe joined our event, despite the distance. 
The eighth edition of the Dynamic Pricing Community will take place in the virtual space on November 23rd, 2022. In the meantime, you can find the recap from our latest edition below.
Dynamic Pricing Community Vol. 7 recap
Highlights:
Sven Baumgarten discussed the current external and internal challenges retailers face and how working cross-departmentally can cope with them.
He later pointed out how pricing differentiation according to defined stock can help wean out inventory issues.
Finally, he explained what initiatives are driven by the pricing department and what by the marketing.
Eiko van Hettinga highlighted the atomistic optimization view and misalignment of marketing and pricing goals.
He then demonstrated how Predictive Pricing & Marketing allows for cross-optimization using internal and external data.
Do you also have too high inventory? Many retailers today have high inventory levels as they forecasted higher demand and prepared for potential supply chain disruptions. High inflation is worsening the situation, as people need to spend more money on food and energy, which drives down demand for non-essential goods (e.g. fashion products). Offering discounts is renowned for being one of the solutions to reduce excess inventory. For retailers, especially online retailers, the final quarter of truth 2022 is getting into the critical phase as Singles' day, Black Friday, Cyber Monday, and the World Cup are all in November.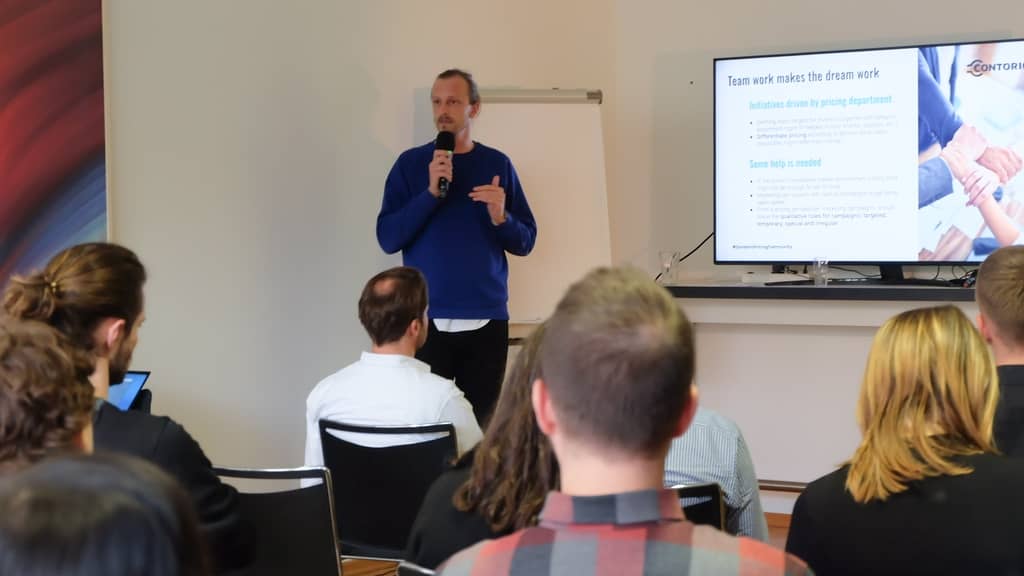 How to deal with inflation, increasing prices, and low traffic was the topic of our last Dynamic Pricing Community meeting. We were honored to have pricing expert and lecturer Sven Baumgarten from Contorion, an innovative and fast-growing B2B online shop for professional industrial and trade supply. He kicked off the event by sharing why cross-departmental collaboration, precisely, pricing and marketing, is essential to drive growth in today's economic situation.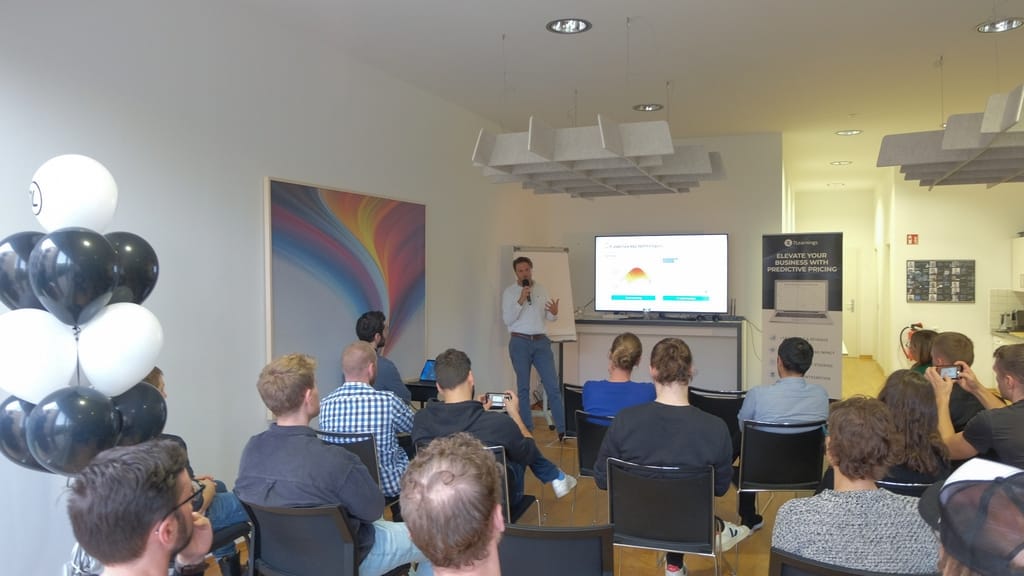 Our co-founder, Eiko van Hettinga, later took the stage to delve into the key technologies behind marketing and pricing optimization. Inflation and recession have made it increasingly evident that pricing is an impactful tool to boost consumption. However, nothing could be achieved without good marketing practices. Optimizing pricing and marketing strategies cross-departmentally is one of the most critical levers to increase profitability in retail.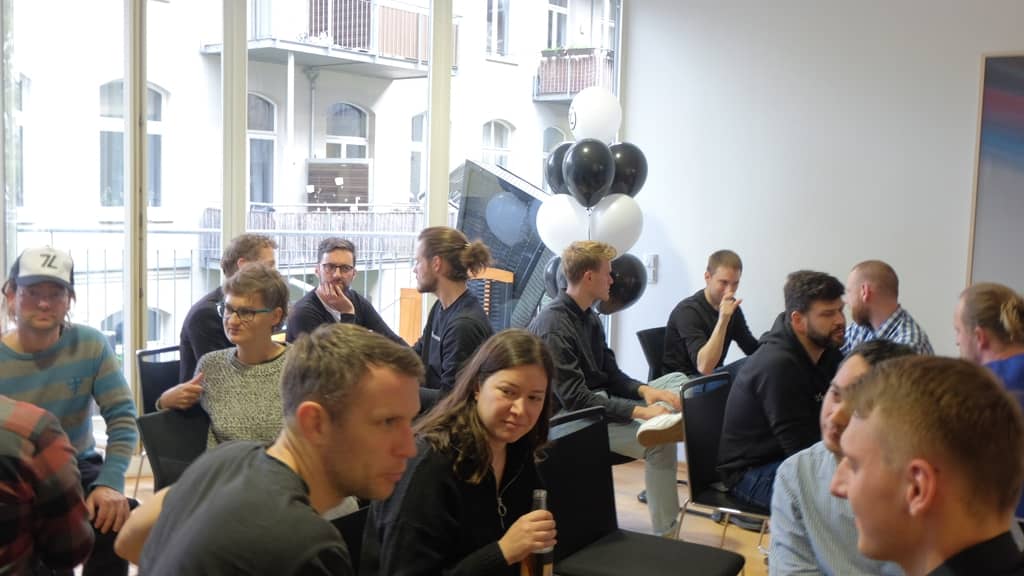 To our members, thank you for your active participation and your stimulating discussions. Some of the most talked about topics during the networking session were price elasticity, inventory-based pricing, B2B pricing, supply chain, etc. All these interactions were accompanied by good food and fine wine.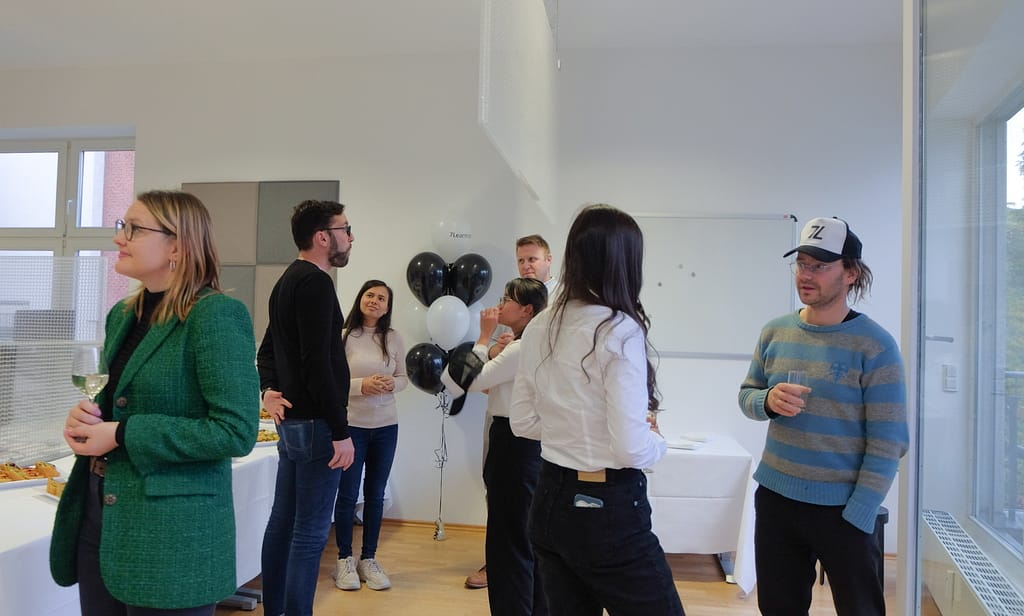 The main takeaway from this event was exchanging ideas drives innovation, cross-departmentally or interpersonally. It was great connecting brilliant pricing minds, sharing thoughts and current real-life industry problems, and setting the 2023 goals. As the old saying goes, two heads are better than one. We hope you took home some actionable points, some priceless inspiration, and perhaps, some long-lasting friendships.
How do you envision your business's pricing strategy will be in 2023? What eCommerce technology will heavily influence next year? Let us know your thoughts on our next event in November. 
Stay tuned for our upcoming events and keep an eye on your inbox as 7Learnings always seeks ways to deliver exciting news and benefits to our members worldwide. Until our next meeting!
What can you expect during the Dynamic Pricing Community gatherings in 2022?
➡ High-quality speakers and community members from both B2B to B2C sectors
➡ Over 150 active senior pricing managers
➡ 1on1 networking sessions 
➡ Borderless knowledge sharing 
➡ …All for free!
Membership and event attendance is free of charge upon successful online application.
For more information, please click here.